Maharishi Special Yagyas
Maharishi designed a unique selection of Special Yagya performances to bring overall support to the personal growth and good fortune of​ recipients. These Special Yagyas bring the blessings of Nature to​ ​individuals and families. Birthday, Wedding, Wedding Anniversary, and Newborn Child Yagyas are performed at key​ ​transitional times when specific, supportive Laws of Nature are particularly lively and accessible.
We have recently made available a new Special Yagya — the Well-Being Yagya — which can be performed on almost any day you choose. They can be performed as many times as you wish​ ​throughout the year, even monthly. When ordering, you​ ​select your preferred date for the Well-Being Yagya.
All Special Yagyas can be requested for oneself, for family members, or for friends. Every one of these important Yagya performances stirs life deeply—from the fundamental level of the unified field itself. In doing so, they not only uplift the individual, they also help dissolve disharmony and promote peace and progress throughout society.
Click below to select the type of Yagya:
Multiple Pandits perform each Yagya. More and more Pandits are engaged in each higher level Yagya, making them significantly more powerful.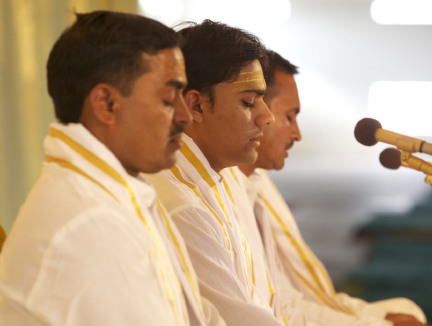 Donations go to Brahmananda Saraswati Foundation (USA). Deductible for U.S. taxpayers.
LEARN HOW TO APPLY
It is easy to request a Maharishi Special Yagya. The entire application and payment can be completed online. Click the orange button below 'Apply for a Special Yagya'.
Please submit your application at least one week in advance. You will need your birth time and birth city.
For more information please see our Frequently Asked Questions section below at the bottom of this page. Let us know if you have any questions: specialyagyas@vedicpandits.org
We accept payment by
 Visa, MasterCard, American Express, and PayPal.
I felt some new strength and deep clarity in my being    "The night that my Well-Being Yagya started already I felt some softness and lightness and joy in the air. Also on that particular day my Transcendental Meditation Programmes were deeper than ever before in an indescribably way. In the evening and during the following days I felt some new strength and deep clarity in my being."  Netherlands
> Read More Experiences from Special Yagya Recipients
Everything was Working Effortlessly  "I was surprised at the depth of the feeling that everything was working around me effortlessly, peacefully and softly on my birthday. It was noticeably different from other birthdays. Thank you to those who organized."   Canada
The Most Happy I Can Recall  "Some situations that were stagnating started to move in the right direction. As for my birthday, it was the most happy I can recall in many years. It was a full week of celebrations, something that probably I have not had even in my star days as a teenager. I am very happy with the results of this performance. I wish the next birthday will come soon."   Italy
I Feel Blessed   "There was a definite change in consciousness from the Yagya. I feel really blessed. I'm definitely looking forward to having a birthday Yagya every year."  UK
Cosmic Smile   "Experience is really cosmic and unifies all levels of human existence in the Cosmic Smile and one feels as
the Golden Powder is poured over him. Thanks to all Vedic Pandits that perform Yagyas and all Vedic Tradition
that brought to us this Divine Pure Knowledge."  Serbia
It was a wonderful experience   "This was my first Maharishi Yagya and it was a wonderful experience. I plan on having one every year. Starting the night before my birthday I felt intense waves of bliss. In the time since then many issues that I had been having for a long time were resolved (which was quite a relief) and I also have been feeling more blissful and content. If obstacles arise on a day-to-day basis they seem to dissolve more easily and my actions seem more efficient. Thank you for making these yagyas available."  Canada
The Impact was Obvious   "We had not expected the Yagya to affect us so directly, but the impact was obvious. It reminded me of the impact of a long rounding course. Difficult to describe, but impossible to miss."  USA
Something very special happened   "As soon as I paid for the Wedding Anniversary Yagya something very special happened in our relationship. Now it is as if everything is so clean, so transparent. It is a wonder that a Yagya can work, only by paying for it."  Netherlands
Anchored in the Absolute   "We both felt anchored in the Absolute the entire time: a sense that we were immovable – really. Needless to say, we're looking forward to the next one."  USA
The Yagya Blew Away Tiredness and Fear   "To make myself a Yagya present for my "sweet sixtieth" birthday was a very good decision. I had nice experiences during that day. I felt very happy, smooth and all my activities went more quiet and relaxed than usual. I still feel more hopefulness and my whole daily life seems supported. But the best is that my heart became more open and my meditations are deeper than before. It seems that the Yagya also blew away tiredness and fear from the past, they are gone and I really recommend to everybody to spare for a Birthday Yagya!."  Germany
Life Flows More Smoothly   "The effect of the Yagyas is amazing – many I have talked to have noticed the same quality of experience as I have. Life flows so much more softly, support of Nature is constant in small and big ways, barriers are lifting. I can feel at peace with everything."  USA
Close Section
What is Maharishi Yagya?
Maharishi restored the crucial understanding and proper practice that the Vedic Mantras should be projected from awareness grounded in the Para (Transcendental) level of speech, where the link between sound and form – between desire and fulfillment of desire – is intimately connected and enormously powerful.
This skill, of necessity, incorporates the practice of Yoga – the Transcendental Meditation and TM-Sidhi programmes, including long Yogic Flying – and the resulting enlivenment of the Transcendent source of speech prior to the recitation and performance of Yagya. Only Maharishi Vedic Pandits have this crucial training and skill. For a more complete explanation, listen to John Hagelin, Ph.D., a world-renowned quantum physicist, educator, public policy expert, and leading proponent of peace.
> FREQUENTLY ASKED QUESTIONS
HOW LONG ARE THE SPECIAL YAGYAS AND WHEN ARE THEY PERFORMED?
Each Special Yagyas is performed in one day. Birthday, Wedding and Wedding Anniversary Yagyas are performed on the auspicious day of the event. Newborn Child Yagyas are performed 40 days after the birth, following the tradition of Vedic families.
Well-Being Yagyas can be performed on almost any day you choose. They can be performed multiple times throughout the year, even monthly. You select your preferred date for the Well-Being Yagya.
HOW DO THE SPECIAL YAGYAS DIFFER AT THE DIFFERENT DONATION LEVELS?
The difference between the different Yagya levels is that more Pandits are added at each higher level Yagya, making them significantly more powerful. The following donation levels are available:
Birthday, Well-Being and Newborn Child: $1,000 $2,500 $5,000 $10,000
Wedding and Wedding Anniversary: $1,500 $3,000 $6,000 $10,000. Both spouses are beneficiaries of these Yagyas.
HOW MANY PANDITS PERFORM THE SPECIAL YAGYAS?
Multiple Pandits perform each Yagya. More and more Pandits are engaged in each higher level. While the number of Pandits performing a particular Yagya has always been private, there are certainly enough to produce excellent results. The beautiful experiences our participants are reporting confirm this. More important than the number of Pandits is the Pandits' skill and experience which reflect in the quality of the Vedic performances. Maharishi explained many times that Maharishi Yagyas are unique for the quality of their sound. The training of Maharishi Vedic Pandits is recognized throughout India as second to none (see question below). In addition, the Maharishi Vedic Pandits are all Sidhas who practice group Yogic flying before performing the Yagyas. This ensures that the Vedic Mantras can be projected from awareness grounded in Para (the Transcendental level) where the effect will be much more powerful.
HOW ARE MAHARISHI VEDIC PANDITS TRAINED?
The training begins at an early age, where children begin to learn from their parents. Young boys from Pandit families join Maharishi's formal training program in their local areas around the age of 10 in one of many "Guru Ji" training centers. Around the age of 14, the young Pandits-in-training move on to one of the residential training campuses in various parts of the country. Generally, from there they move on to one of the main Maharishi Vedic Pandit campuses. The Pandits are all enrolled in Maharishi Mahesh Yogi Vedic Vishwavidyalaya, a chartered university. Their systematic training continues through the PhD level. Our Pandits all practice the Transcendental Meditation® and TM-Sidhi® programs.
WHAT IF I DO NOT HAVE THE EXACT BIRTH TIME?
Please try to determine the birth time as accurately as possible. If you do not have the exact time, a good sense of the approximate time is acceptable.
FOR A NEWBORN CHILD YAGYA, DO I NEED THE PARENTS' BIRTH INFORMATION?
While it is ideal to have the full birth information for both parents, you may apply with the information that you have.
IS IT BETTER TO SPONSOR A SPECIAL YAGYA OR CONTRIBUTE TO A NATIONAL YAGYA?
Both are wonderful options and both directly support the large groups of Maharishi Vedic Pandits. It depends on the desire of the donor. In the case of the National Yagyas, the donor is supporting their country and, through that intention, themselves as well. With a Special Yagya, the main purpose is for the benefit of the participants. Ideally, the donor might consider doing a Special Yagya once or twice a year, but kindly also helping with the National Yagyas every month, depending on their budget.
WHERE DO THE DONATIONS GO?
The funds donated for the Special Yagyas go directly to support the Maharishi Vedic Pandits. Donations for the Special Yagyas are made to Brahmananda Saraswati Foundation. BSF is a U.S. non-profit organization that was founded at Maharishi's request in 2008 for the express purpose of maintaining large groups of Maharishi Vedic Pandits in perpetuity. The funds donated for the Special Yagyas are used in two primary ways:
– Supporting the large groups of Maharishi Vedic Pandits
– Training new Maharishi Vedic Pandits to expand and sustain the program
The support covers all of the Pandits' needs including housing, meals, clothing, and medical care. BSF, in collaboration with our sister organizations in India, is directly overseeing the highly professional and cost-efficient management of this new Special Yagya program to ensure its maximum effectiveness.
ARE DONATIONS TAX-DEDUCTIBLE?
Donations to the Special Yagya program are made to Brahmananda Saraswati Foundation, a non-profit, educational organization under Section 501(c)(3) of the U.S. Internal Revenue Code. Donations are tax-deductible for U.S. taxpayers. A receipt will be sent to you for each donation.
For other countries please consult your own tax advisor regarding tax deductibility. If you have further questions your National Ambassador will be glad to help. For contact information please refer to > About Us / Our International Network of Ambassadors.
Close Section