What are National Yagyas?
National Yagya is a specific technology to increase good fortune and prevent problems for an entire nation. These Yagyas are carried out by large groups of Maharishi Vedic Pandits located in India including at the Brahmasthan (geographic centre) of India.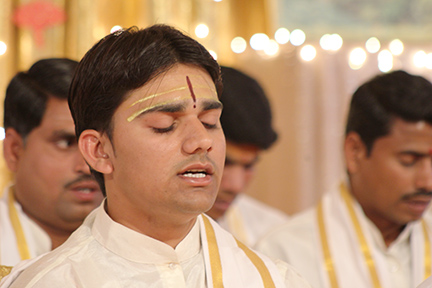 How are THEY performed?
National Yagyas are performed over a period of days or weeks depending on the magnitude of the Yagya and the intended purpose selected by the country. Examples of specific purposes are increased economic progress, improved health, national harmony, or reduced or averted problems such as a natural disasters, violence, or ailing economy.
> Listen to the Pandits at the Brahmasthan performing a Yagya for protection of a nation.
The science behind performing Yagyas
Listen to John Hagelin, Ph.D., a world-renowned quantum physicist, educator, public policy expert, and leading proponent of peace:
FOUR reasons to support the Maharishi Vedic Pandits and national Yagyas
1. Support your country
National Yagyas powerfully promote peace, success, prosperity, and national invincibility, targeted specifically at your country's benefit.
2. Protect your world, your environment
The collective effect of many national Yagyas has a powerful positive influence on the world. In addition, your donations increase the size of the group at the Brahmasthan of India to the critical level of 9,000 needed to secure world peace.
3. Protect yourself and your family
Your nation benefits from your support, and so this benefit reaches you as a citizen. We all know the truth of the saying: 'As you sow, so shall you reap'. In the ancient Vedic tradition, the supporters of the Yagya are said to be the primary beneficiaries.
4. Preserve the Vedic heritage
Maharishi placed great emphasis on restoring the Vedic tradition, as it offers the knowledge and techniques to realize our full potential – individually and collectively. All donations to a National Yagya simultaneously support the Pandits and ensure that this knowledge remains available for future generations.
Be Named in a Yagya
You can sponsor the entire cost of a National Yagya, starting at approximately € 915.00 ($ 1,250.00). In this case you will be acknowledged – by name – in the Sankalpa (intended purpose) that is stated by the Vedic Pandits at the beginning of the Yagya performance. After you make your donation of $1,250 USD or more, your Ambassador will contact you to complete the National Yagya application.
Contributing to a National Yagya not only brings manifold positive influences to your country, but you as an individual donor will benefit.