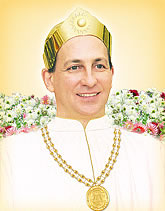 Maharaja Adhiraj Rajaraam
The first ruler of the Global Country of World Peace is Maharaja Adhiraj Rajaraam, world-renowned neuroscientist, whose extraordinary research and discoveries have demonstrated that the Unified Field, the total managing intelligence of the universe, lies at the basis of the human brain physiology.
Maharaja guides the global activities of 27 Rajas (administrators, each responsible for several countries), 8 Purusha Rajas, the Prime Minister, and 12 Global Ministers.
'Under the reign of Natural Law, our dear world will be free from suffering and fear—everyone will rejoice in health, wealth, and happiness. Our diversified world of today will be a unified world for every tomorrow in the long corridor of time.'
— Maharaja Adhiraj Rajaraam
3,000 Peace Palaces
While supporting the rich diversity of our world family, the Global Country of World Peace will establish global world peace by unifying all nations in happiness, prosperity and perfect health.
The administration of the Global Country of World Peace is based enlivening Natural Law in the collective consciousness of every nation. Through 3,000 Peace Palaces being built around the world, the programs of the Global Country of World Peace offer individuals and governments knowledge to bring the support of the evolutionary power of Natural Law to all areas of human endeavor. These programs will spontaneously maintain continuity of Natural Law in the day-to-day administration of national life without damaging the cultural dignity of the nation.