Dear Friends,
It was very heartening to recently re-read the semi-annual report sent out last year around this same time and see our progress since then at the Brahmananda Saraswati Trust and Foundation.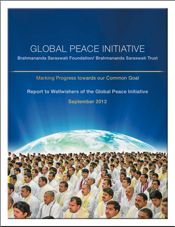 BSF Semi-Annual Report
The continuing and accelerating progress, presented in our current semi-annual report (download by clicking here.), is a great credit to the effort of all our stakeholders:
Our dear Maharishi Vedic Pandits


Our highly capable and devoted project administrators led by Brahmachari Dr. Girish Chandra Varma Ji


Our gracious and generous family of donors and supporters


Our dedicated, focused fund raising team
We thank with all our heart each and every one of you in all these categories. And with greatest appreciation we thank Maharishi Mahesh Yogi whose vision, planning and guidance is the basis of this project and what will be its result – peace, harmony and affluence in the family of nations.
With best wishes always,
Jai Guru Dev
Raja Harris and Arlene Kaplan