Dear Friends,
Girish Ji, Arlene and I are delighted to announce the launch of our new website in preparation for the 2nd season at the Bijauri campus of the Brahmasthan of India. We open on September 30th and continue with the last week starting March 10th.
The most profound and delightful aspect of the Bijauri project during our inaugural season was to hear over and again the depth of experience gained by all who came to the place Maharishi called, 'the holiest of all the holy places of India'. We want to warmly invite you to join us this season and together enjoy this experience.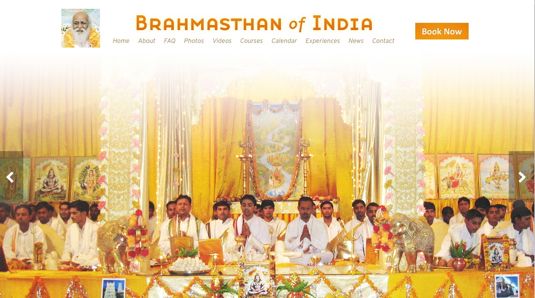 The new website — easy to navigate and full of photos and information.
As we watch the reservations start to build – 275 people have booked for this coming season, about 70% of our total for last year – we wanted to try to ensure that our Pandit supporters can come when they choose. Some weeks are already sold out, so please try to book as early as you can. (The top of the "Calendar" page and the "News" page are regularly updated with the weeks that are sold out.)
So far, the busiest bookings are from mid-January 2013 until season's end. We wanted to remind everyone how beautiful the weather is in October, November and December – really ideal times to come. We especially want to draw your attention to the weeks of October 14th and 21st which will include from the 16th to 23rd special recitations for Sharadiya Navaratri, the Nine Days of Mother Divine, and on the 24th, the wonderful celebration of Victory Day, Vijaya Dashami.
Of course, every week is very special at the Brahmasthan of India, with daily live recitation by groups of Maharishi Vedic Pandits, including the performance every week of Rudrabhishek, the profound Yagya for peace for the world. It would be wonderful to welcome you whenever you can come.
Speaking of special, our third new building of guest suites is now finished, featuring much larger and even more deluxe one and two-bedroom suites. Information about these deluxe suites is available on the FAQ page of the new website.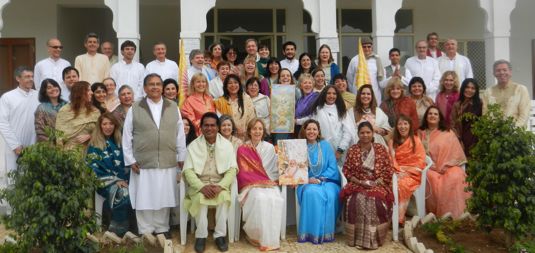 National groups from many countries enjoyed the special silence of the Brahmasthan.
If you should need travel help, please see this topic on the website FAQ page. For help with arranging groups from your country, please contact our office (courses@MaharishiIndiaCourses.com) . We would be delighted to help in any way.
Looking forward to seeing you soon at Bijauri and sharing with you that experience amid the blessed, significantly expanding group of Maharishi Vedic Pandits at the Brahmasthan of India
With best wishes,
Jai Guru Dev
Raja Harris and Arlene Kaplan