Dear Friends,
The growing support reported in our newsletter of May 2 is going hand in hand with an expanding circle of people who are aware of the gift of perpetual peace that Maharishi Ji offered to the world.
As part of that broadened outreach, Arlene and I wanted to summarize for you the rays of sunshine brightening the Indo-American and Indo-Canadian communities from the recent tour by Maharaja Adhiraj Rajaraam.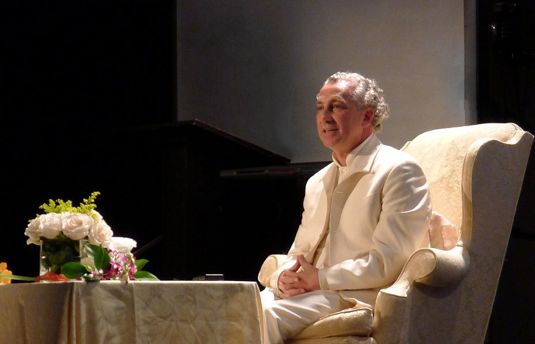 Maharaja's explanation of the Ramayana in Human Physiology was
deeply appreciated by Indo-Americans and Indo-Canadians.
In the past six weeks, Maharaja led the highly successful New Paradigm Tour of 10 North American cities. Raja John Hagelin and Dr. Ramani Ayer, Chair of our Development Council, joined Maharaja in deeply inspiring the Indo-American and Indo-Canadian communities with Maharishi's vision of Veda, Consciousness, and the Self.
Maharaja held audiences in rapt attention with his explanation of how every aspect and nuance, gross and subtle, of the Vedic epic, the Ramayana, is intimately correlated with the actual structure and functioning of our human physiology.
Raja John and Ramani Ayer explained the scientific basis and practical programs of Maharishi Vedic Science, especially the power of Maharishi Vedic Pandits to create peace in our world.
The response to the presentations was consistently and overwhelmingly enthusiastic. The number of attendees at most venues doubled or tripled our expectations. In all, nearly 4,000 Indo-Americans and Indo-Canadians attended Tour events, including 600 at three events either hosted by or facilitated by local chapters of the American Association of Physicians of Indian Origin.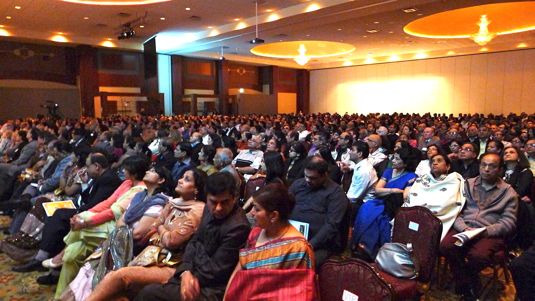 Over 800 attendees listen to Maharaja in Chicago.
They were very moved to learn of all Maharishi had done to revive Vedic science and quite stunned to learn that there are already almost 1,000 Maharishi Vedic Pandits in the US in addition to the more than 6,000 in India, who are either Maharishi Vedic Pandits in the Brahmasthan, or at Prayag or students enrolled in Pandit training elsewhere around the country
Throughout the tour, we kept hearing the same comments: "We feel so proud of our Vedic tradition!"; "We never knew!"; and "Now we must help create peace with you!".
At the event in Chicago, which was attended by over 800 people, The David Lynch Foundation's video crew professionally filmed the entire event. Our team is using that footage to create a new video on Veda and the Global Peace Initiative that will be publicized as a webinar worldwide. This should significantly help the Foundation's global outreach, especially to people of Indian origin.
This recent outreach is part of what, we hope, will prove to be a systematic and successful march to our initial goal of having 3,500 and then 9,000 Maharishi Vedic Pandits at the Brahmasthan of India. It is moving in that direction now and with your continuing support, we will reach our common goal.
With best wishes,
Jai Guru Dev
Raja Harris and Arlene Kaplan