OUR CAMPUSES HAVE HOSTED GUESTS FROM ALL PARTS OF THE WORLD.
Thousands of people have already made use of this opportunity by participating in events, courses and tours at three main locations.
We look forward to welcoming you at one or more of these centres, where you can have the profound experience of deep silence in the vicinity of a large peace-creating group, and enjoy live recitations by the Maharishi Vedic Pandits.
THE BRAHMASTHAN OF INDIA
The Brahmasthan (geographical centre) of India, home of our main peacecreating group, where the Maharishi Vedic Pandits conduct large peace performances daily, including National Yagyas. You can attend residential courses of one week or more together with visitors from many countries around the world.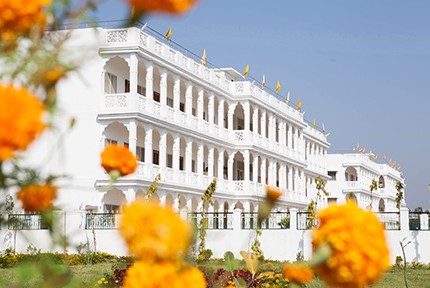 Since 2011, the international guest facility at the geographical centre – Brahmasthan – of India has been offering stays of one or more weeks for guests who come to hear live Vedic recitation.
Guests enjoy a high level of comfort at the newly constructed Bijauri International Campus in the midst of rural India. Well-furnished suites with bedroom and private bathroom, freshly prepared and delicious meals, and excellent purified drinking water are complemented by fast Internet access. It is an opportunity for deep rest, with extended practice of the Transcendental Meditation and TM-Sidhi programme, comfortable walks and delightful company. The daily routine includes experience of live recitation by Maharishi Vedic Pandits who visit the Bijauri campus each day plus lectures on the practice of TM and profound knowledge for development of consciousness.
When visitors experience the magnificence of the Brahmasthan they are motivated to support the project. Here is a comment from a visitor. "I remember with absolute clarity my time at the Brahmasthan last February with the Canadian group. I'll be more than happy to help support the Vedic Pandits. I do donate to the Brahmananda Saraswati Fund and feel it's a privilege to be able to help even in a small way." SE
Click here to listen to a video recording of another course participant discussing his experience visiting the Brahmasthan of India.
A highlight of the courses is a weekly visit to the huge Yagya Hall to witness the live performance of Atirudrabhishek – the powerful Yagya for world peace performed by 1,331 Pandits. A truly transformative experience.
The season runs from October to March each year when the climate is most comfortable.
Click here to request more information or to get in touch with Irene Earl – our coordinator for the Guest Campus at the Brahmasthan of India.
video conference
Our guests commonly remark that the experience at the Brahmasthan is life-transforming, deeply blissful and fulfilling. In this February 2016 video our course participants talk about visiting the Brahmastan of India.
MERU, THE NETHERLANDS
MERU, near Vlodrop, the Netherlands, where our global monthly donor campaign is coordinated, is where we hold monthly Ambassador receptions and other special events.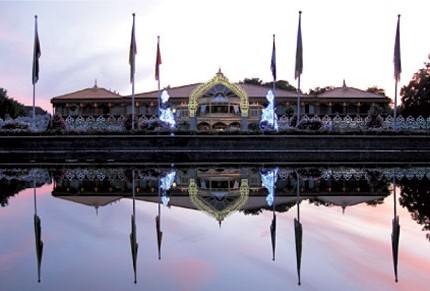 MERU, Maharishi European Research University, is located in beautiful secluded forests near Vlodrop, a small village in south-eastern Holland. Our monthly Ambassador Receptions take place in Maharishi's home – Peace Palace – with live recitations by resident Vedic Pandits, and knowledge and news updates. Our national coordinators – or 'Ambassadors' – from around the world, donors and their guests, as well as anyone who would like to experience deeply this profound approach to creating world peace are welcome to attend.
The Ambassador Receptions for 2017 will be held on the following dates: February 4, March 4, April 8, May 6, June 3, July 1, August 5, September 9, October 7, November 4, December 2.
If you are unable to attend the receptions in person you can connect online at www.mgcwp.org/bstreception
Schedule: (Times are CET — Central European Time)
10.00-12:30 Rudrabhishek (Yagya for Peace) in Maharishi's former residence
12:30-14.30 Lunch
14.30-16.00 Afternoon meeting:

Inspirational video with a talk by Maharishi
Special guest speakers
News and inspiration
Live Vedic recitation
Invitation request:
Interested in attending our Ambassador receptions? Please fill in the application form and we will get in touch with you.
National Conference Calls:
MERU Vlodrop is also the coordinating centre for regular regional conference calls for our donors in over 80 countries. Participants enjoy Vedic recitations live from India, hear inspiring news of the progress of the Global Peace Initiative, and discuss questions. Ask your national Ambassador about the next one or click here to get in touch with Colleen Rosania, our reception organizer.